This article is meant to give information about another famous personality Arvind Ghosh ( also known as Sri Aurobindo Ghosh) who was very famous for his diversified roles in the various field. He was an Indian yoga guru, a poet, a story writer, Philosopher, have worked for the Independence of India also. So we are going to discuss about his life in brief.
1. A brief Introduction of Arvind Ghosh
2. His journey in a nutshell
3. His childhood
4. His shifting to England
5. Coming to Baroda and Calcutta
6. Converstion from politics to spirituality
7. Pondicherry : Start of his Philosophical Journey
8. The development of the Ashram
9. Demise of Arvind Ghosh
10. Literary works
1. A brief Introduction of Arvind Ghosh
Arvind ghosh ( Sri Aurobindo ghosh) was a multi talented person. He was an Indian Nationalist, a Yogi, a Philosopher, a story writer, a poet , and a historian. He was very famous for his Philosophical ideas and theories which were related to God, Nature, Humanity, and about the Universe. He was born on 15th August 1872. He has participated in the movement against British Rule and for a while he emerged as an influential Leader and after that he chose the path of spirituality giving ideologies about humanity and human's spiritual growth.
2. His journey in a nutshell
Arvind Ghosh has studied at King's College, Cambridge, England so that he can qualify for the Indian Civil Services. When he returned back to India he was involved in many civil services works under the Maharaja of the Princely State of Baroda and also got involved in the freedom movement of India with Indian National Congress and the nascent revolutionary movement in Bengal with the Anushilan Samiti. He got arrested for the various bomb outrages which were related to his organization but could be convicted and imprisoned only for writing articles against British Rule in India.
But soon he was released in absence of evidence. During the time period he spent he jail, he developed his interest towards mystical and spiritual experiences. After being released he moved to Pondicherry leaving all behind for his spiritual work.
At Pondicherry, Sri Arvind Ghosh developed a spiritual practice which he called as Internal Yoga. The base of his vision was to evolve human life into a divine life. With the help of his collaborators, Mirra Alfassa ( who was also known as " The Mother" ) , in 1926 he led the foundation of the Sri Aurobindo Ashram. Out of his various works the main literary works are The Divine Life, Synthesis of Yoga, Savitri : A legend and a Symbol.
3. His childhood
Arvind Ghosh was born in Calcutta, West Bengal on 15th August 1872 in in a Bengali Kayastha Family. His father ( Krishna Dhun Ghosh ) was a surgeon by profession and also he was a former member of the Bramho Samaj. His mother was Swarnalata Devi, who was daughter of Rajnarayan Bose , a leading personality in Samaj. Arvind Ghosh had 2 elder siblings, Manmohan and Benoybhushan, a younger brother Barindra Kumar, and a younger sister named Sarojini.
Since Arvind was from a very rich family he was used to English Language as his father gave more emphasis on learning English and their culture. As a result of which he along with his 2 elder brothers were sent to English speaking school Loreto House which was a boarding school in Darjeeling. The school was run by Irish nuns which gave them exposure to Christianity.
4. His shifting to England
Arvind's Father Krishna Dhun Ghosh wanted his sons to get into Indian Civil Services and to achieve this it was necessary for them to study in England. Hence his family moved to England in 1879. The 3 brothers were placed under the care of Reverend W. H. Drewett in Manchester whom his father knew through his British friends at Rangpur. They were taught Latin and enrolled at Manchester Grammar school .
To join Indian Civil Services, it was mandatory to pass the competitive examination and to study at an English University for 2 years. Following which Arvind Ghosh got scholarship at King's College, Cambridge. After few months he passed the Civil Services Examination securing 11th rank out of 250 competitors. But Aurobindo had no interest in joining the services so he intentionally came late for the horse riding test which was mandatory to pass for joining Civil Services .
5. Coming to Baroda and Calcutta
In 1893, Arvind Ghosh joined the state services at Baroda . He first started working in the Survey and Settlements Department and then moved to Department of Revenue and further to the Secretariat. In 1897, he also started to teach French at Baroda College ( now known as Sayajirao University of Baroda ) for part time. Later he got promoted to Vice- Principal. At Baroda Arvind Ghosh learned Sanskrit and Bengali by self.
While he stayed at Baroda, he wrote many articles for Indu Prakash and also spoken as chairman of Baroda College Board. He also started taking interest in the political activities related to independence of India from the British Rule. He come in contact with Lokamanya Tilak and Sister Nivedita.
Arvind Ghosh moved to Calcutta in 1906 after the partition of Bengal. He was married to Mrinalini , a 14 year old girl during one of his visit to Calcutta. He got arrested in May 1908 with an allegation of contact with Alipore Bomb Case. He was released after 1 year of isolated incarceration.
6. Conversion from politics to spirituality
While he was in jail, he experienced a different set of ideologies coming to his mind. He started getting incline towards the spirituality . He said that while he was in jail he felt the presence of Swami Vivekananda speaking to him. In 1990, Arvind Ghosh withdrew himself completely from the politics and independence movements and hid himself in Chandannagar. And then he moved to Pondicherry.
7. Pondicherry : Start of his Philosophical Journey
In Pondicherry Arvind Ghosh pinned himself to his spiritual and philosophical pursuits. After 4 years of practicing Yoga, In 1914 he started a philosophical magazine name Arya but in 1921 it's publication was stopped. Few years later he revised some of the things in the articles and published in the form of books. The books were : The Synthesis of Yoga, The life Divine, Hymns to the Mystic Fire, The Secret of Veda, Essays on The Gita, The Human Cycle, War and self-determination, and The Future Poetry.
While he started in Pondicherry, there were only few followers but gradually the number started increasing and led to the formation of Sri Aurobindo Ashram in 1926.
8. The development of Ashram
Mirra Alfassa ( also known as The Mother ), was a very close spiritual collaborator, of Sri Arvind Ghosh. She was born in Paris on 21 Debt 1878 and was a French National. She studied occultism with Max Theon during her 20s. She moved to Pondicherry along with her husband, Paul Richard, on 29 March 1914 and after few years they finally settled there in 1920. There she came in contact with Arvind Ghosh and became his spiritual collaborator.
On 24th November 1926, Arvind Ghosh retired into seclusion, he left the responsibility of planning, building and running the Ashram which was till then the community of disciples which had gathered around them. Somewhat Later, when families started joining the Ashram with their children she established and led the formation of Sri Aurobindo International Centre of Education as an experiment in the field of education. When Arvind died in 1950, she continued and managed and directed the Ashram and also guided his disciples.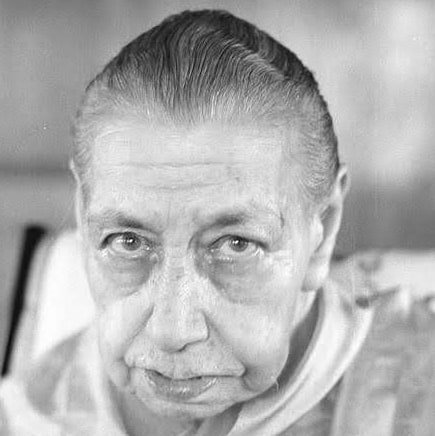 9. Demise of Arvind Ghosh
Sri Aurobindo Ghosh died on 5th December 1950. Many of his followers, his disciples and the people who were highly influenced by his philosophies attended his funeral to see his body lying peacefully ( around 60,000 ). Our first president Dr. Rajendra Prasad and first Prime Minister Pandit Jawahar Lal Nehru praised Arvind Ghosh for his influential contribution to the Yogic Philosophy and also for his roles in the Independence movements. Different National and International newspapers commemorated his demise.
10. Literature
Below listed are his literary works which were published in India . Arvind Ghosh books list are huge as he has published too many works of his on the matter of spirituality and the Divine Life. Some of the Arvind Ghosh books are listed below:
1. His first edition of collective works were published in 30 volumes : Sri Aurobindo Birth Centenary Library (SABCL), Pondicherry: Sri Aurobindo Ashram .
2. Records of Yoga
3. The secrets of Veda
4. Vedic And Philosophical Studies
5. The Life divine
6. The synthesis of Yoga
7. Hymns to the Mystic Fire
8. Karmayogin
9. Isha Upanishad
10. Letters of Yoga
11. The Mother
12. Letters of himself and the Ashram
13. Early Cultural writings
14. Kena and Other Upanishads
15. Collected Poems
16. Essays on Gita
17. Collected Plays and Stories
18. The Renaissance of India with a defense of Indian Culture
19. The Human Cycle – The Ideal of Human Unity – War and Self Determination
20. The Future Poetry
21. Autobiographical Notes
Also Read : Factors of 11 – All Factors You Need To Know